Rabbi Aryeh and Sharona Kaplan arrived at UCLA in the Summer of 2004 and, enjoying the optimal Jewish Bruin community, have not left since! They were designated as Exemplars of Excellence by Hillel International for the profound impact they have made on individuals and the community while on campus.'
Rabbi Aryeh studied at Gush and Yeshiva University before moving to Los Angeles in 2004. There, he began building a vibrant student community, offering an exciting diversity of individual study sessions, group learning opportunities, and formal classes. Besides maintaining an array of chevrutot and chaburot at the Hillel at UCLA, he offers shiurim in the Medical School and the Law School on campus and has been a coveted guest lecturer at a wide array of local venues.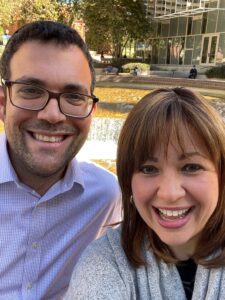 Sharona Kaplan earned her BA from Stern College and received a Master's in Social Work from Yeshiva University's Wurzweiler School of Social Work.  She is a sought after Kallah teacher as well as a featured speaker at a variety of women's programs and events on and off campus.
Living by the adage, "Im Ein Kemach, Ein Torah" the Kaplans can be counted on for providing food for the body (or at least an ice-blended) alongside their food for thought. Their homemade, signature desserts, fumbling Farsi attempts and unique translating skills make OU-JLIC events at UCLA especially Damet Garm (i.e. Optimal).
Since arriving at UCLA, The Kaplans have added six children to their OU-JLIC team. Born right on campus at UCLA's hospital, the Kaplan kids are worthy ping-pong opponents and can be seen hanging in the Hillel lounge, engaging students and and welcoming Jewish Bruins into their home . Shalva, Barak, Rivky, Yakir, Yosef and Tzahala add lots of personality and love (as well as Kaplans with a proper Californian accent) to any OU-JLIC event.
Rabbi Aryeh and Sharona Kaplan are starting their second optimal decade as the OU-JLIC Educators at UCLA. They are both members of OU-JLIC's Executive Leadership Cohort, mentoring other Educators and supporting national programmatic needs. The Kaplans function as the Directors of OU-JLIC's West Coast operations, strengthening and growing OU-JLIC in Los Angeles and beyond.